Spring is here. And with it comes warming temperatures and spawning trout species across the country. It's time to get outside.
When you think of our home state of Arizona, good trout fly fishing is not something that often comes to mind. But as it turns out, there's an opportunity everywhere if you know where to look.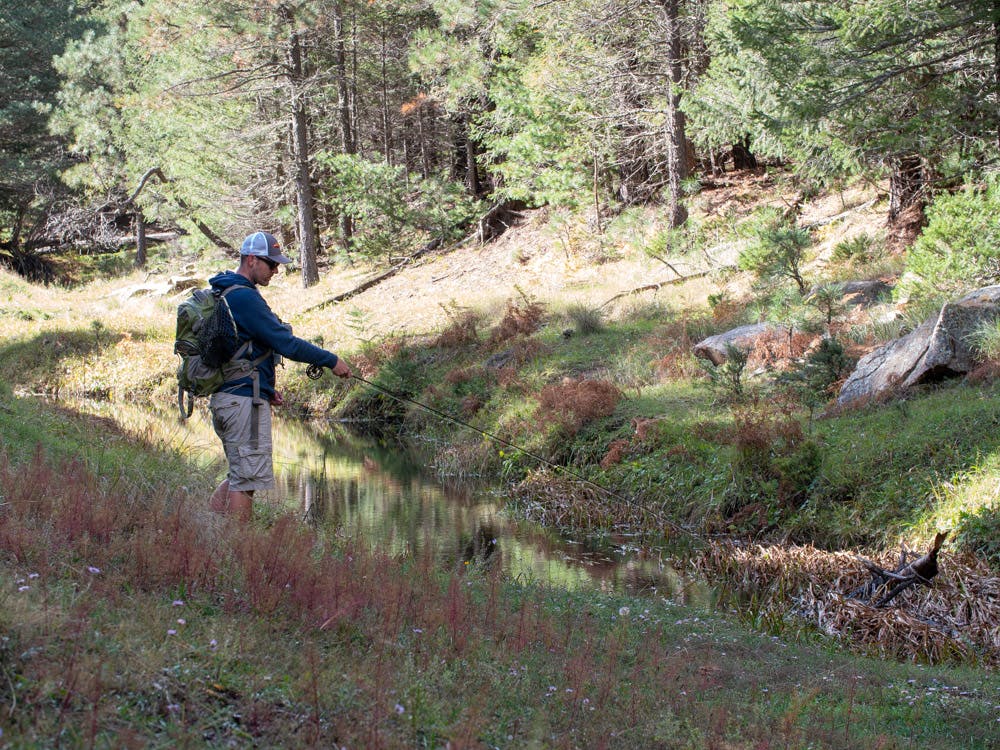 We followed Anthony Jenca ( @intothewildwego ) down and back one of his favorite of Arizona's small streams as he chucked flies into its pools and pockets, looking for native (by native, we mean non-stocked) brook trout. And while we didn't find any brookies, we did enjoy encounters with a brown or two.
Tips For Finding New Fishing
Use online resources.
Much can be found online these days. And this is where your search should begin. Your fish department's website should give you a general idea about where to go. But don't stop there. If fishing reports mention lakes, you will probably find fish in the creeks, streams, and rivers leading into and out of those lakes.
Be willing to use your legs to access more remote locations. Water that's accessible by motor vehicles is likely to be busy. Fish will be spooky. And fishing can be difficult. But if you're willing to walk a few miles into water that's not vehicle accessible, you may find a new honey hole.
Backcountry trails make travel faster. But you'll also be able to plan routes to water that doesn't have well-defined trails straight to it. For this, online maps are golden.
Be friendly.
People like sharing photos and stories of their fishing trips. So in most states, you'll be able to find an online community built around fishing. These communities may be a forum or Facebook groups. It could be a YouTube channel or an in-person group with meetings and scheduled trips. Don't be the person who goes there asking for coordinates where people catch fish. Loose lips sink ships. And this is especially true with rare fishing spots. When too many people hit them, the quality degrades quickly.
Instead, seek to be a part of the community. Give more than you take. Lace up your wading boots. Load your cooler, and go spend some time searching for your locations. Share your experiences with the group and make friends. Eventually, you'll start connecting with people, leading to invites. Before you know it, you'll be fishing new water. Just be sure to hold those invites in the highest regard and not take people to those spots afterward. They are borrowed, not owned.
Don't forget that a big part of the fun of fishing is exploration. Failure plays a significant role in that. The only way you lose is to quit exploring.