Sam Aiken (@samaikenphotography) is a former river guide, and a professional photographer who just returned from sailing Catalina Island with his wife, animals, and a Canyon PRO45 and Nomad GO.
Aug 9th, 2021
Oleana, a 30ft Masthead Sloop from 1970, has fuel, provisions, two humans, two dogs, and a cat.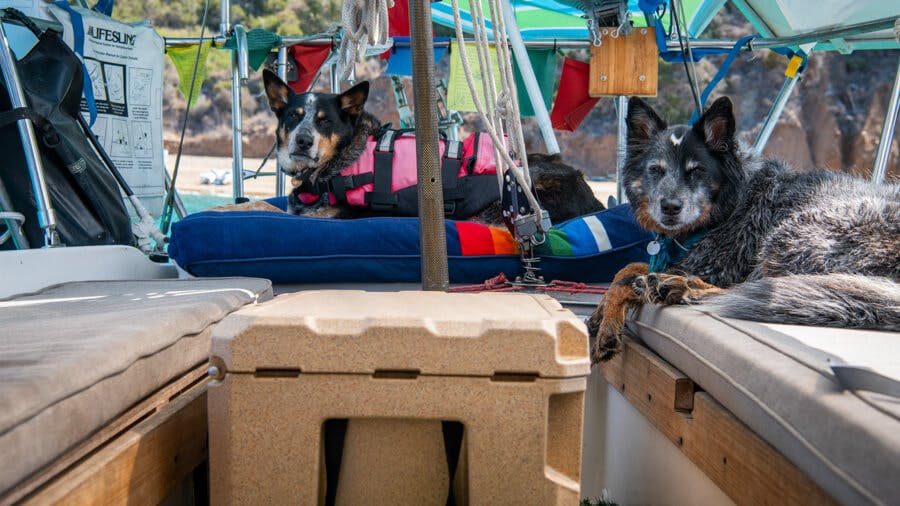 We sneak by the lighthouse at Angel's Gate, which officially thrusts us over the starting line of the open Pacific. Anchored offshore are dozens of massive container ships, like a graveyard of floating skyscrapers. A rough heading of 210 degrees will take us to Catalina Island, the easternmost member of the Channel Island archipelago.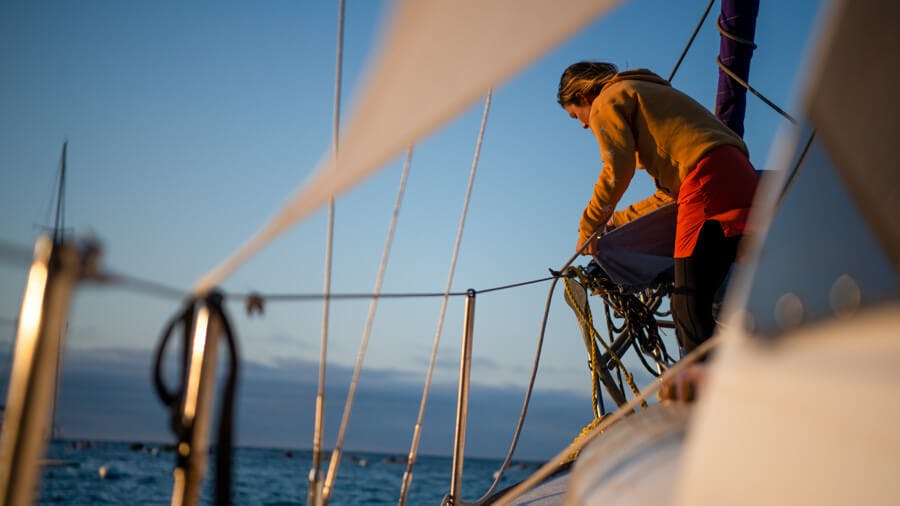 A slight breeze from the NW would be enough to fill our mainsail and give us a subtle boost of speed and stability. Our passage would be blessed with several dolphin pods that inevitably love to dance around the bow as we are underway. DeeDee, (aka Designated Driver, aka autopilot) would take the reins for a portion of the trip, allowing us to enjoy a tasty beverage and take in the scenery.
I truly love the ocean. Its mystery is met only by its balance of power and grace. To find yourself untethered from land might initially bring fear, but along with the uncertainty of letting go comes the gift of your hands being open to what is around you. We spend so much of our lives trying to be in control of everything around us, and the ocean has a great way of reminding us that she's in charge.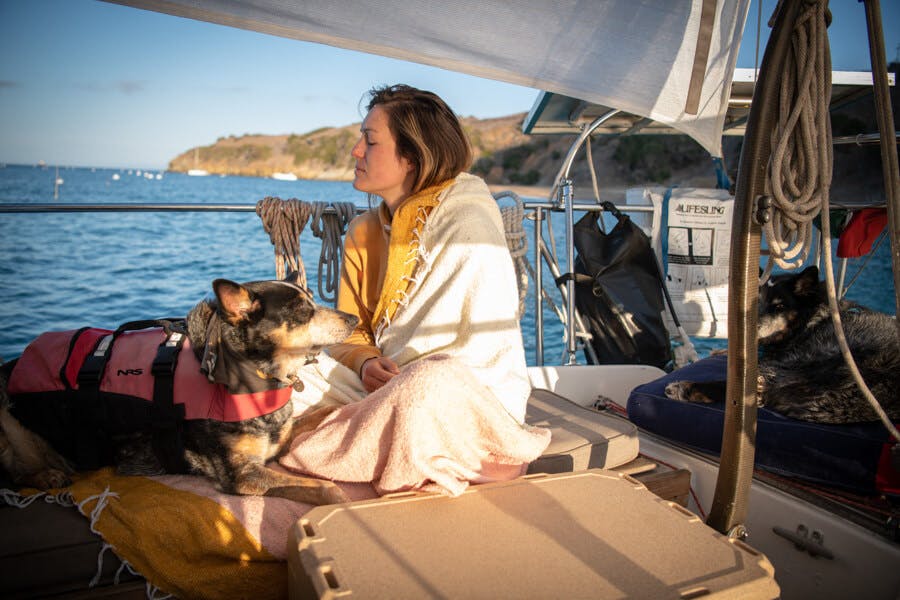 We would be reminded again of the power of nature as we try to grab a mooring at Emerald Bay with 15 knots of wind. A swinging boom would also meet Karri's face, giving her a giant forehead bump and a black eye. The rolling swell would be enough to keep us all slightly seasick throughout the night as well.
Oleana feels every bit of the sea and is riddled with DIY projects, as are most old boats. Cooking, sleeping, and going to the bathroom are all somewhat rugged experiences with the old girl. Still, after spending the last 12 years as raft guides on the Arkansas River in Colorado and sleeping in a car, we have come to love the adventure that discomfort can often bring.
We spent a few days exploring the island by foot and getting the critters outside for some activity as well before packing up the boat for a downwind sail home.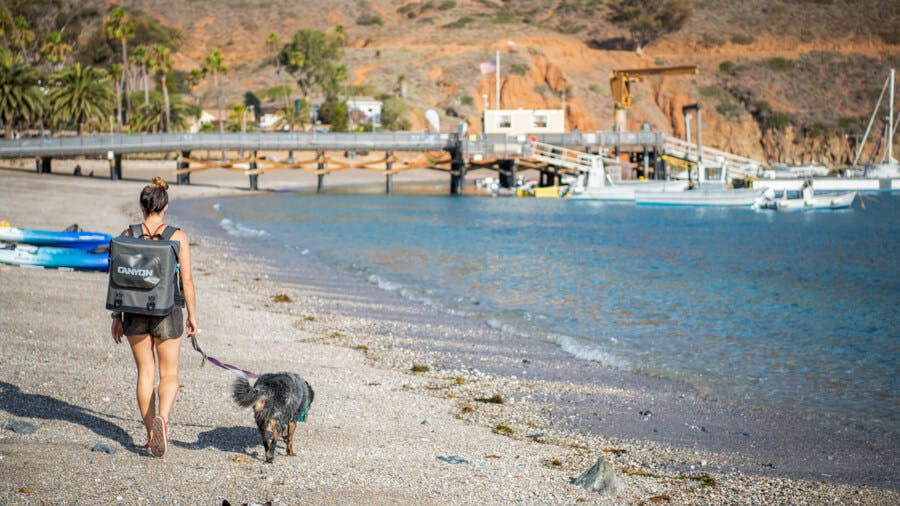 A highlight on the trip home would include a whale breach a little ways off our bow, leaving a giant splash to show the power of the beautiful animal.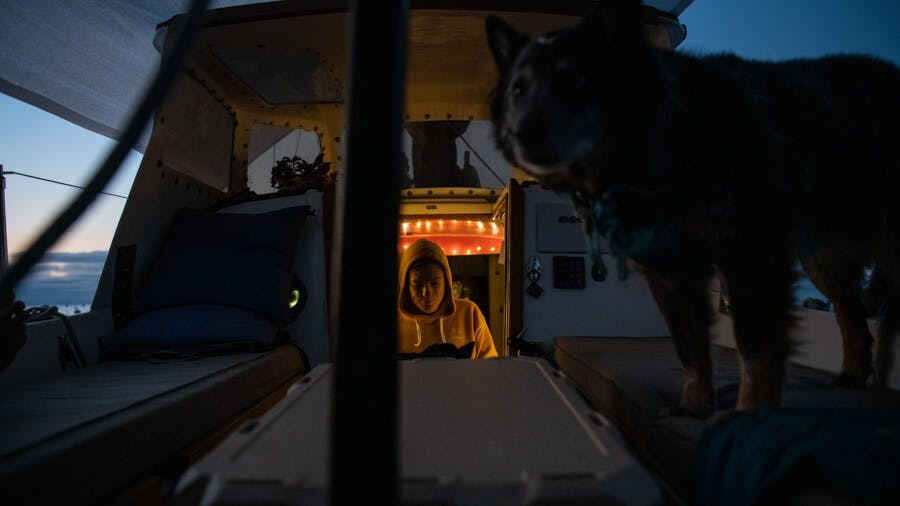 It feels like a blink of an eye before we are back home prepping for the workweek, almost like the trip never happened.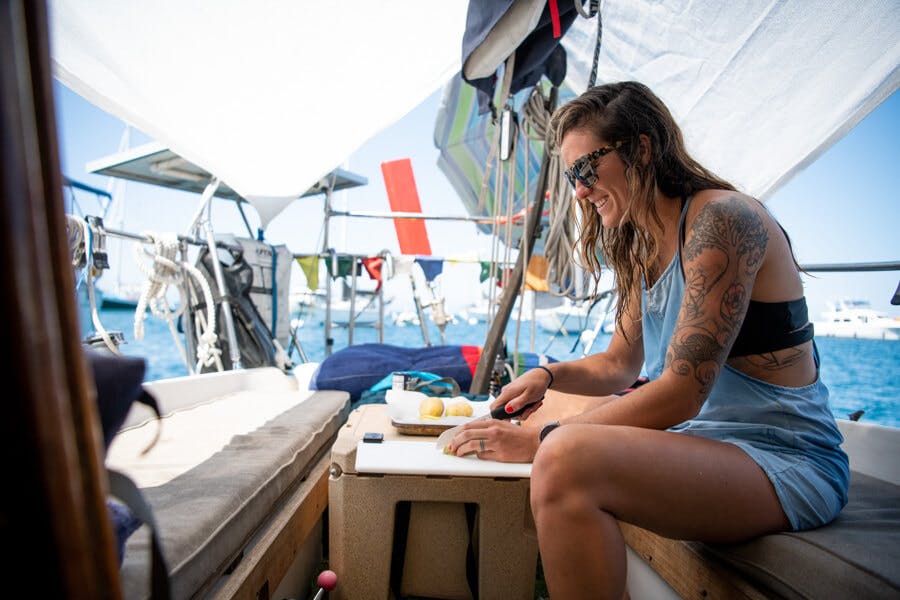 For years, I had the impression that a trip needed to be epic for it to be taken at all… That's a steaming pile of horse shit. The older I get, the more I appreciate and am grateful for the quiet moments between the epic.
For that, I raise a glass to a "Case of the Mondays."
-Cheers